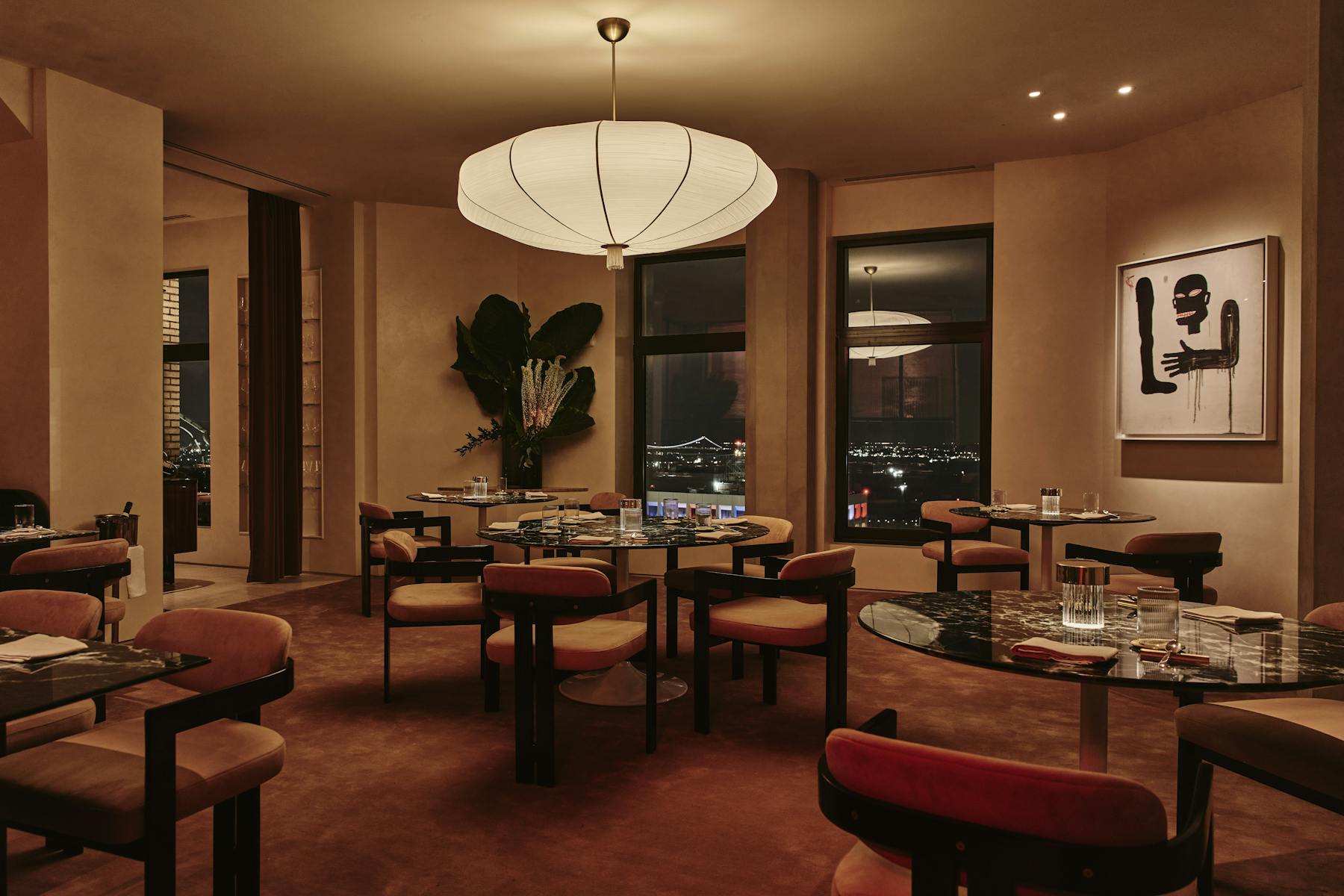 The SAGA Team
Our crew of food, drink and hospitality experts from around the world.
James Kent

Executive Chef and Partner

A Greenwich Village native, James Kent started his culinary career as a summer apprentice at Bouley when he was fifteen years old. After taking classes at Le Cordon Bleu in London and Paris then graduating from Johnson and Wales, James moved back to New York where he spent time in the kitchens of Babbo, Jean-Georges, and Gordon Ramsey. In the spring of 2007, James joined the team at Eleven Madison Park as a line cook and was quickly promoted to sous chef. In 2010, James placed first in the Bocuse d'Or USA Competition; he then represented the United States at the international finals of the Bocuse D'Or in Lyon, France the following year where he places 10th in the world. When he returned to New York, James was named chef de cuisine of Eleven Madison Park. Under his leadership, EMP received nearly every accolade bestowed on a restaurant including four stars from the New York Times, three Michelin stars, and a coveted spot on the San Pellegrino list of the World's 50 Best Restaurants. James was promoted to Executive Chef of the NoMad in the fall of 2013, the same year that it received one Michelin Star. He left The NoMad in 2017 to pursue his first solo project, an ambitious pair of restaurants in the landmark Art Deco building at 70 Pine Street in New York's Financial District.

Renata Ameni

Executive Pastry Chef

Born and raised in São Paulo, Brazil, Renata Ameni studied hospitality and advertising before getting her start in pastry kitchens at Patisserie Douce France. She came to the United States to study marketing in San Francisco. After graduating with a masters degree, Renata worked as a pastry cook for Ritz Carlton Hotels, doing stints in Denver and Naples, Florida. She moved to New York in 2011 and started in the pastry kitchen at Jean-Georges. After two years there, Renata was hired as a Pastry Cook at Eleven Madison Park where she was eventually elevated to Executive Pastry Sous Chef working closely with then Chef de Cuisine James Kent. During her tenure at EMP, the restaurant received a four star review from the New York Times, three Michelin stars, and the top spot on the San Pellegrino list of the World's 50 Best Restaurants. In 2017, Renata moved to northern California where she lead the pastry team as Executive Pastry Chef at David Kinch's Manresa. She returned to New York in 2018 to develop and oversee the pastry program at 70 Pine.

Jassimran Singh

Culinary Director

Jassimran Singh was born in New Delhi, India. In 2006, he moved to Melbourne, Australia where he studied culinary arts at Holmes College. After graduating, Jassimran spent time in the kitchens at Maze by Gordon Ramsay and No. 8 by John Lawson at Crown. In 2014, Jassimran moved to New York where he was hired as Sous Chef at The NoMad working under then Executive Chef James Kent. In 2018, Kent tapped Jassimran to lead the kitchen at Crown Shy as Chef de Cuisine.

Gracie Estacio

General Manager

Born and raised in the San Francisco Bay Area, Mary-Grace "Gracie" Estacio started her hospitality education at the age of fourteen, working with the underprivileged community of Oakland. She moved east to study at the Culinary Institute of America in Hyde Park. After graduating, Gracie moved to New York where she worked in Hospitality at The Mercer Kitchen before being hired by Jeff Katz at Del Posto in 2010 where she eventually rose to Dining Room Manager. In 2018, Jeff tapped Gracie to join the front of house team at 70 Pine as Assistant General Manager.

Harrison Ginsberg

Bar Director

Harrison Ginsberg developed his passion for the restaurant industry like most people... in the dish pit at an Italian joint. Harrison continued his restaurant education at Johnson & Wales. During school, Harrison bartended at Cook & Brown and The Dorrance in Providence, Rhode Island. He moved to Chicago in 2013 to pursue a career behind the bar, landing a job on the opening team at The Dawson. Harrison returned to his home state of New York in 2016 to help open BlackTail, while also bartending at The Dead Rabbit. Harrison has participated in the national finals for Bols Around the World (2nd place), Bacardi Legacy 2014 (Midwest Finalist), Grand Marnier Grand Masters 2015 (Winner), Diageo World Class 2015 & 2017 (National Finalist), and Heaven Hill's 2018 Bartender of the Year (Winner).

Kristen Goceljak

Wine Director

Kristen Goceljak is our resident Jersey girl. She attended Cornell University and started her career in the restaurant industry shortly after she graduated. Inspired by travel abroad, she enrolled in the Intensive Sommelier Program at the International Culinary Center in early 2012. Following her completion of this course, she worked as a sommelier in Princeton, NJ. A few years later, she made the jump to the big city and began to explore her wine career as Wine Director at Commerce and later at NoHo Hospitality's Little Park. She then became part of the opening wine team at Crown Shy.

Allison Hamel

Service Director

Allison Hamel grew up in Bend, Oregon. She left the West Coast to study at Lake Forest College in Chicago where she graduated magna cum laude with a double major in biology and anthropology. After school, Allison lived in East Africa where she led a study abroad program focused on anthropological research. She started her New York hospitality career at Carbone, where she worked as a host. Allison then jumped to Major Food Group's then-new Midtown outpost The Lobster Club before heading back downtown to Dirty French. In August 2019, Allison joined the team at Crown Shy where she worked as a manager until she took the 21 car to the spire of the building to join the opening team at SAGA.

Ashley Belle

Hospitality Manager

Ashley Belle was born and raised in Brooklyn. She left the Five Boroughs to attend Skidmore College where she worked her way through every job in the school cafeteria: from fry cook to dishwasher, manager to cashier. In 2013, Ashley was hired as a host at The NoMad where she met James Kent. She and Kent were soldiers in arms for almost five years–Ashley as maitre d'; James as executive chef. Ashley left the NoMad for a year-long stint at Pasquale Jones (now her favorite spot without a 70 Pine Street mailing address) before joining the Crown Shy team. A writer of short stories, Ashley is trying her best to be a plant mom, but restaurant hours don't make it easy…

Leigh-Erin Balmer

Director of Private Events

Born and raised in Kansas City, Leigh-Erin Balmer studied at George Washington University in Washington, DC. After graduating, she toured the country and then relocated to Louisiana to pursue a Master of Fine Arts. Leigh-Erin later moved to New York, where she spent over five years with Myriad Restaurant Group overseeing events for Tribeca Grill, Centrico, and Corton. As Myriad's Event Sales Director, Leigh-Erin helped open Bâtard, which received a glowing three-star review from the New York Times, and the James Beard Award for Best New Restaurant in 2015. In 2017, Leigh-Erin was hired by Jeff Katz to lead the events program for La Sirena at the Maritime Hotel. She now leads the events program at 70 Pine Street, overseeing events for SAGA, Overstory and Crown Shy.

Jooho Song

Chef de Cuisine

India Doris

Executive Sous Chef

Emily Hall

Executive Pastry Sous Chef

Paul Jaramillo

Sous Chef

Chris Ahrens

Sous Chef

Mark Merrique

Private Dining Chef

Ellen Newman

Pastry Sous Chef

Kate Lyons

Dining Room Manager

Peter Marquez

Content Creator and Marketing Strategist

Andres Oyola

Director of People Operations

Maximilian Quattrone

Director of Operations
---
Join the team
We are always looking to add great talent to our team, so even if you don't see an open position that you might be interested in, we encourage you to share your resume for a future placement.